Aankondiging AvL medal awardee
27-1-2023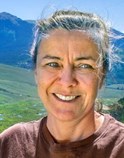 It is our pleasure to announce that Prof. Jillian Banfield from the University of California, Berkeley, has been awarded the ' 2023 Van Leeuwenhoek Medal'. The 'Van Leeuwenhoek Medal' is a scientific award established in 1875 to commemorate the impactful contribution to science and society of Antoni van Leeuwenhoek. The medal is awarded every ten to twelve years in the past by the Royal Netherlands Academy of Science nowadays by the Royal Netherlands Society for Microbiology (KNVM).
The jury is of the opinion that Jillian Banfield has made an outstanding contribution to the understanding of complex microbial communities and their interaction with the environment. The jury is impressed by her pioneering work on groundbreaking technologies such as genome-resolved metagenomics and community proteomics to study diverse communities of bacteria, archaea, and phages, leading to the addition of complete new branches to the tree of life. The studies of Prof. Banfield have allowed tremendous advances to the field of environmental microbiology impacting our view of the functions of microbial communities in a wide variety of environments ranging from soils and deeper aquifers to the human gut, thereby bridging environmental and medical microbiology. The jury also acknowledges the great societal impact of the work and the application of her findings towards the improvement of bioremediation.
The medal will be awarded during the KNVM/NVMM Spring Meeting in Papendal on Wednesday 5th April.
On behalf of the jury and the KNVM
Prof. dr. Han Wösten (Chair of the Jury)
Dr. Marien de Jonge (Chair of the KNVM)
Terug naar overzicht